Cooking The Perfect Steak
CHOOSE YOUR PERFECT CUT
First you need to choose a good quality cut. If you're not sure what to go for, this little infographic tells you all about the texture, flavour, tenderness and cooking times for all the different types of cuts. Oh, and my top tip for any cut is to make sure you bring the steak to room temperature before cooking it.
Click image to enlarge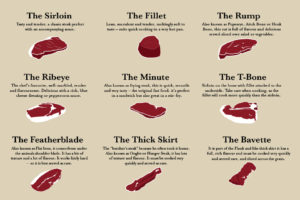 Before you start a
---
For the Perfect Steak:
You can griddle, grill or pan fry your steak, always make sure your pan or grill is hot before you start cooking – to ensure you seal the steak and caramelise the meat.
You can fry steaks without oil – dry pan frying – great if you are cooking your steaks for a short time.
If using oil then rapeseed oil is a good choice, butter is great too if frying but can burn if your cooking your steaks for too long, you can add some butter to rapeseed oil and that will help reduce the burning.
Some people like to season there steaks before cooking with a little freshly ground sea salt and black pepper.
After cooking your steak – cover with some foil and allow to rest for 3 to 4 mins.
Use our handy guide to get it just the way you like – 
Blue – 1 min each side
Rare – 2 ½ mins each side
Med/Rare – 3 to 4 mins each side
Medium – 4 to 5 mins each side
Well done – 6 mins each side
---
SERVING SUGGESTIONS
Don't fancy a butter with your steak? Another couple of favourites are Sauce Diane or Peppercorn Sauce, take a look at the great recipes here –